Exotic, unique expression by brush or handmade implements to apply marks to silk, rayon, cotton and linen.
Jorie's only workshop in Norway will be on the beautiful island of Skåtøy, hosted by May J. Hvistendahl.
Among vegetable dyes there are three overlooked colors: white, black and brown. Through de-gumming silk we produce repetitive patterns in white and soft pastels; by applying Japanese Sumi ink with various tools and brushes we will achieve dark to light shades of black offering a variety to your personal marking of fabrics like cotton, silk, linen and rayon. And a colorant, as well as a sealant, fermented Persimmon tannin (Kakishibu) can be applied to the finished work for extra appeal and strength! Welcome natural dyers and feltmakers of all levels.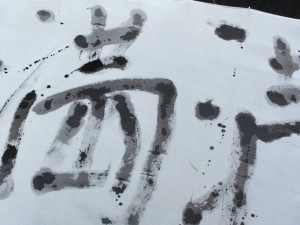 Following the creation of a palette of original fabrics participants will be urged to start a shawl or art work suitable for framing.
Please contact May Hvistendahl for information and reservations: may@filtmaker.no
Location: Skåtøyveien 180, Skåtøy N-3738