Inspiration, ideas, tools and supplies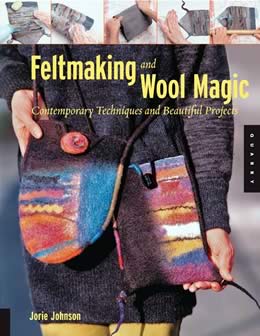 Feltmaking and Wool Magic 
by Jorie Johnson   
Paperback, 128 pages with 500 photos/illustrations
Buy this book on Amazon
After studying textile design in both the USA and Finland, Jorie Johnson was introduced to the felt-making process in 1977 when she was first taught Scandinavian felt boot-making. She was immediately struck by felt's amazing properties and possibilities. Little did she know at the time that one day she'd be teaching a variety of traditional and contemporary feltmaking techniques to interested students in countries around the world. Through her book, Feltmaking Wool Magic, you will see that Jorie's approach to feltmaking is clearly creative as well as effective.
Fabulous Felted Scarves
By Jorie Johnson and Chad A. Hagen
Paperback,  144 pages
Felting is hotter than ever, and scarves are fabulous first projects for crafters to try. The simple process yields infinitely varied results, with rich colors, forms, and visual appeal. Created by two internationally known designers, these 20 spectacular boas, wraps, shawls, and stoles are wearable art. Ranging from elegant to trendy, the projects include a scarf with lacy patterns; a wrap inspired by the delicate hues in Monet's water-lily paintings; and a pretty dip-dyed party scarf. The second edition has a different cover.
Beginner's Felt Kit
To help you get off to a rip-roarin', rollin' start Joi Rae Textiles has assembled a simple beginner's kit. The kit includes:
+Feltmaking and Wool Magic, book (Sorry, Japanese edition only available from Kyoto studio 3800 yen (tax free))
+1 polyester net, size 45 x 55cm (324 yen)
+1 Japanese special order bamboo mat for cord rolling 30 x 40 cm (1598 yen)
+250g assorted color wool (1782 yen) enough to complete several projects
Price 7,504 yen (approx. $64.50)        NOTE: Does not include shipping and packing fees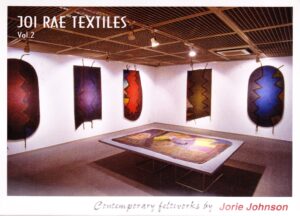 The  Joi Rae Textiles studio has published four  small samplings of the work produced over the recent years in the Kyoto studio. Interesting accessories, hats, wearable clothing and works for interiors, such as rugs, table runners and fine art works, all beautifully photographed. These sets make good teaching tools, as well as, smart gifts to interested feltmaking friends. Currently the most recent three sets are available. Each pack of 12 twelve cards comes in a nice, folded case for 1296 yen (USD 11.50) each. (shipping & handling not included.)
For more information, please contact the shop at info@JoiRae.com